What is the difference between a garage suite and a garden suite?
The official city description a garage suite is "a self-contained accessory dwelling above or attached to a rear detached garage, on a single detached lot which usually comes in the form of apartment-sized living space, with its own kitchen, bathroom, and living space, on the second floor of your garage".
The city description of a garden suite is "an at-grade self-contained, accessory dwelling located in a building that is physically separate from the principal dwelling." Typically, garden suites are single-story structures built in the backyards of single detached homes and must have their own kitchen, bathroom, and living space.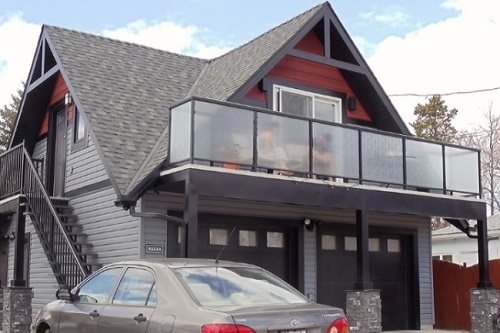 There are several benefits of purchasing a house with a garage or garden suite or building on an existing house in Edmonton. Garage and garden suites are great ways to add some rental income to your property to help pay down your mortgage. It eliminates the shared interior space the way you would with a basement suite. These smaller living spaces are also a great way to add some diversity to your community because they allow different demographic access to housing options on your street.
Garage and garden suites can keep family members nearby, yet allows for more personal space. It can be a great option for keeping your parents or your children close, while still maintaining some privacy by ensuring everyone has their own space. Alternatively, some ageing empty nesters have decided to downsize into their own garden or garage suite, and allow their children's family to live nearby, in the main house.

As with any good infill project, it is all about creating more flexible living options so every Edmontonian can choose the community that suits them best. For more information on Garage and Garden suites, visit the city of Edmonton's Infill website. Popular communities in Edmonton with garage suites are located in the University Area, Griesbach and the Westmount Area.