History of Canadian Armed Forces Base Edmonton Garrison
The third Canadian Division Support Base is a great place to be posted, CFB Edmonton is a Canadian Forces base located in Sturgeon County north Edmonton and east of St. Alberta municipality. CFB Edmonton Garrison is also known as the Steele Barracks. The history of this Canadian Armed force Edmonton Base begins in the old Blatchford Field airfield, named after Kenny Blatchford who was a former mayor of Edmonton.
During the First World War, this airfield began operating and became vital to the development of the Canadian north, a staging point for the U.S. defense of Alaska and was heavily used by the U.S. military. and during the Second World War, the Blatchford Field was a training station under the British Commonwealth which formed a Royal Canadian Air Force Flying Training School and used the aerodrome.
Since the Blatchford Field airfield could not be expanded due to the proximity of Edmonton, the United States Government built a new air facility at Namao, a hamlet within Sturgeon County located approximately seven kilometers north of our city limits. It was the namesake of RCAF Station Namao, now CFB Edmonton, which is directly south of the hamlet.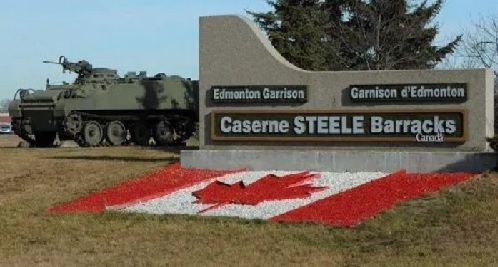 The RCAF Station Namao was used by the United States Strategic Air Command, during the Cold War. It constructed a "Nose Dock" capable of servicing the nose and wings of heavy jet bombers and tankers on the south side of the airfield and also hosted the Rescue Coordination Center, and served as home base for United Nations Food Aid flights, delivering much-needed aid third world countries, and was a designated an emergency Space Shuttle landing site by NASA.
When Canada's armed forces were amalgamated in 1968, the RCAF Station Namao was re-designated CFB Edmonton and was under command of the new Air Transport Command. Today, both runways are still visible, but they are no longer in use with the exception of helicopters.
Edmonton is a great place to make a relocation move and offers several outdoor amenities and summer festivals. Today, this Canadian Armed Forces Military base, now known as the community of Griesbach has completely transformed.
Posted to CFB Garrison? Book your HHT with one of our TPSP- BGRS REALTORS Today.