Griesbach - North Edmonton
The Griesbach community has an identifiable architectural character that has been established to keep a consistent image throughout the mix of real estate uses. The theme is communicated through Architectural detail, massing, and color palettes that emphasize a combination of Heritage contemporary design with warm tones and accent colors at specific locations. There is an emphasis on stone or masonry finishes is encouraged on selected building elements. Griesbach has dedicated 26% of its land use to green spaces, retention lakes, and natural habitats.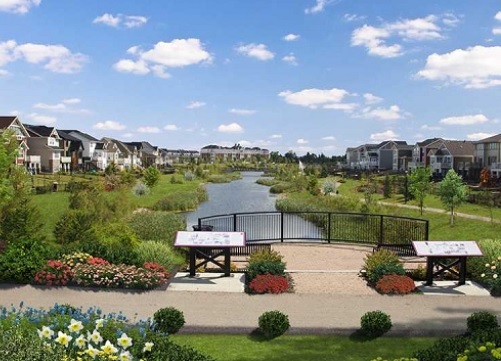 Patricia Lake & Park
This Griesbach park site was created to honor one of Canada's most accomplished military regiments – The Princess Patricia's Canadian Light Infantry. It was created in memory of the almost 2,000 soldiers from (PPCLI) who have given their lives in the service of the regiment over the past 100 years.
On May 8th, 1915 the PPCLI (Princess Patricia's Canadian Light Infantry) was attacked at Frezenberg and Bellewaerde Ridges. By the end of the final German assault, the Patricia's were reduced from 554 to four officers and 150 men. The Memorial is a replica of the original monument to the Patricia's which is located near their heroic stand at Bellewaerde. The original monument includes the inscription "Here 8th May 1915, the originals of Princess Patricia's Canadian Light Infantry commanded by their founder Major A Hamilton Gault held firm and counted not the cost.
Canada's first soldiers died in Afghanistan in April 2002 when a "friendly fire "incident killed four and wounded eight members of the PPCLI. The four trees that surround Patricia Park represent not only the four Edmonton soldiers but all those killed and injured in Afghanistan and are a tribute to their sacrifice and courage.
A time capsule containing regimental artifacts and items of significance is encapsulated in a specifically designed cavity in the Patricia Park Memorial with the intent that it will be retrieved from the memorial and opened on August 10, 2064, on the occasion of the 150th Anniversary of the Regiment. The artifacts represent the first 100 years of the service by the regiment. Also inside are three letters from Pte. Cole Lisowski, Pte. Mark Brushett and Pte. Dylan Renaud, three of the youngest members on active duty with the PPCLI, was given the task and honor of returning to the site 50 years from the unveiling to open the capsule.
The dedication of Patricia Park, in the community of Griesbach, offers Patricia's and civilian citizens a place to reflect on both the achievements and sacrifices of the PPCLI, with over a thousand names of those Patricias lost because of active duty etched on a wall of honor. "This memorial will pay homage to that same courage and sacrifice of Patricias through the last hundred years and the next hundred years," said Laurie Hawn, member of parliament representing Edmonton Centre.